CASE 4 (Endometrial Cancer):
A 62 year old female presents with endometrial cancer.
NCCN has added a new tool to help facilitate the identification of patients with Lynch syndrome - the PREMM model, which was developed by Dana Farber. Since we know that Lynch syndrome is composed of multiple types of cancers, this tool can help healthcare providers determine if patients meet NCCN criteria for testing. NCCN clinical testing criteria for Lynch syndrome states that once you input your patients' personal and family cancer history into the PREMM model, if the prevalence is ≥5%, the patient is appropriate for Lynch syndrome testing.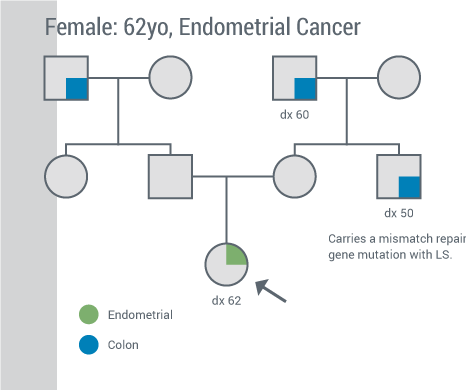 This patient that we discussed does meet clinical genetic testing criteria based on her ≥5% risk threshold according to the PREMM model. All patients with endometrial cancer have a >5% risk threshold according to the PREMM model.
Additionally, by obtaining her second-degree family history, as recommended by ASCO, it is determined that her maternal uncle was diagnosed with colon cancer at the age of 50 and carries a mismatch repair gene mutation associated with Lynch syndrome. This information would never have been captured had the patient's complete family history not been taken.
Now, she meets guidelines for single site testing based on the previously identified mutation in the family.
If she is found to carry the mismatch repair gene mutation her uncle does, there are some potential management changes that her provider may suggest. For instance, prophylactic hysterectomy and BSO, CA-125 screening, and an increase in colonoscopy frequency to every 1-2 years may be recommended.