Process

Incorporating a Protocol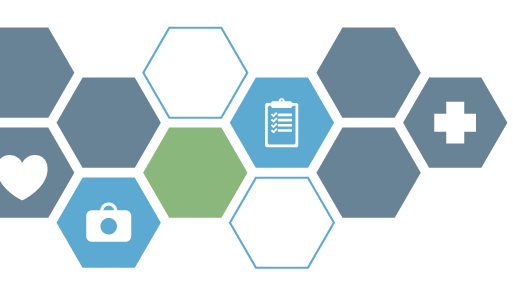 Healthcare is rapidly changing, leaving providers with competing priorities. Now, more than ever, it is critical to prioritize efforts to ensure high quality patient outcomes while keeping healthcare costs in mind.
The transition to include hereditary cancer risk assessment as standard of care in practices can be smooth. Once in place, all aspects of patient care can be considered when designing a treatment plan to prevent another cancer.
In order to afford patients the best outcomes, healthcare providers must establish a consistent protocol to assess hereditary cancer risk in all patients. There are some important considerations for screening, evaluating, diagnosing and managing patients:
To appropriately screen all patients for hereditary cancer risks, it is important to establish a standard protocol that identifies individuals with red flags associated with an inherited predisposition to cancer.
Tools: Myriad provides screening tools in a variety of formats to help you take the first step in identifying hereditary cancer risks. Depending on your preference there are digital tools available online or hardcopy tools available.
In its expert statement (link to Lu et al)(1), ASCO recommends these key time points for screenings:
End of first phase of therapy
Time of post-treatment summary
Beginning of post-treatment survivorship
Effective Process: Here Dr. Rao discusses her process to effectively capture cancer family history information.
One of the first and most important processes to put in place is a way to guarantee all patients are screened for a hereditary cancer predisposition based on their personal and family history. Information on personal and cancer family history should be documented at initial diagnosis and reassessed frequently.
Multiple Opportunities to Reassess Cancer Family History


Myriad offers a number of services to make it easier for providers to effectively evaluate patients who may be appropriate for hereditary cancer testing. Many payers base payment structures and reimbursement around NCCN guidelines. Myriad has simplified those guidelines into "Red Flags" to streamline the evaluation of patients appropriate for hereditary risk assessment.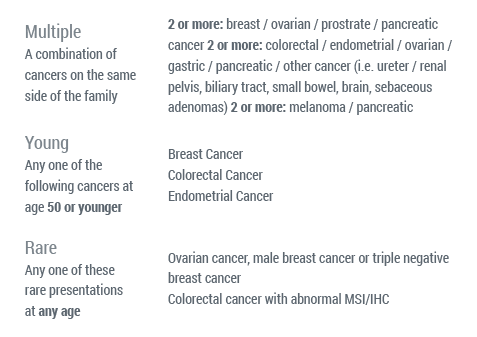 (2)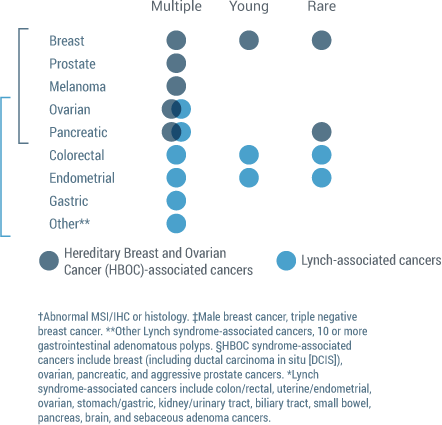 Watch Process: Learn how easily you can evaluate patients who may be appropriate for hereditary cancer testing.
Test Your Knowledge: Interactive quizzes based on these case studies:
Once it has been determined that a patient will benefit from further genetic evaluation, you can order tests directly from Myriad.
Ovarian Cancer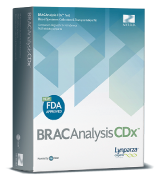 Myriad has both a hereditary cancer panel and companion diagnostic available to patients depending on their cancer diagnosis. Choosing the right test for your patient is an important step in this process. For patients with ovarian cancer, Myriad offers BRACAnalysis CDx, a companion diagnostic for olaparib, a PARP inhibitor. Myriad offers Myriad myRisk, a hereditary cancer panel analyzing 25 genes over 8 cancer sites.
Patients with ovarian cancer have always presented a challenge because of the late stage diagnosis and limited therapeutic options. Until recently, BRCA status has not impacted a treatment plan for a patient with ovarian cancer. However, with the FDA approval of Lynparza (olaparib) and the companion diagnostic BRACAnalysis CDx, that has all changed.
Lynparza is the first and ONLY PARP inhibitor on the market specifically for germline BRCA-mutated advanced ovarian cancer patients who have had three or more lines of chemotherapy. The effectiveness of Lynparza in advanced relapsed ovarian cancer was based on objective response rate (ORR) and duration of response (DoR). For more detailed information about Lynparza and its safety and efficacy, please visit www.lynparza.com.
A recent poster at the 2015 Society of Gynecologic Oncology's Annual Meeting on Women's Cancer demonstrated that an astounding 75% of patients with ovarian cancer do not know their BRCA Status.
Conventional thinking has been that BRCA mutations are rare, testing is only appropriate in young onset patients and testing is only appropriate in those patients with significant cancer family history. The reality is…

15% of all patients with epithelial ovarian cancer are BRCA positive(3)

of patients with ovarian cancer are diagnosed over the age of 50(4)

of BRCA positive patients have NO family history of cancer(4)

of all ovarian cancer patients don't know their BRCA status (5)
Myriad's BRACAnalysis CDx is the first and ONLY FDA-approved companion diagnostic that was proven in clinical studies to effectively identify patients with BRCA mutations who would be candidates for Lynparza.
Along with NCCN Guidelines that state that all patients with ovarian cancer should be tested, all patients with ovarian cancer should have their BRCA status established to optimize treatment.
Understanding a patient's BRCA status at diagnosis informs future treatment decisions with Lynparza.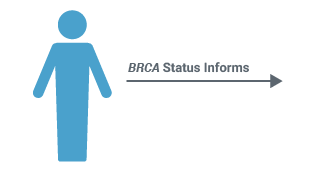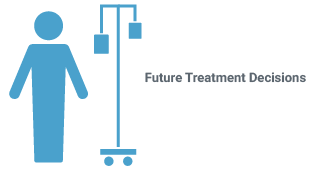 The FDA has reviewed BRACAnalysis CDx™ for:
Accuracy | Reproducibility | Variant Classification Process
You can have clinical confidence in the results you receive from Myriad's BRACAnalysis CDx. The FDA review consisted of the following elements:
17 nonclinical analytical verification studies
Six comparator studies
One clinical bridging study
Two extraction studies
Process validation study
Equiptment and software validation
Two on-site laboratory inspections
Variant classification process
For more information on BRACAnalysis CDx and the importance of knowing BRCA status for all patients with ovarian cancer, please visit: https://www.myriadpro.com/ovarian-cancer-testing/bracanalysis-cdx-overview/
Hereditary Cancer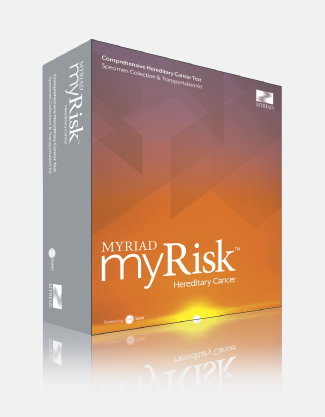 Myriad myRisk is a hereditary cancer panel that was developed out of the clinical dilemma that exists when a patient with a personal history of breast cancer as well as a strong family history indicative of HBOC is negative for a BRCA1 or BRCA2 mutation. Consider the following case. A 39-year old female patient presents with a newly diagnosed breast cancer. Her family history reveals that her mother was diagnosed with ovarian cancer at 55 years old and her maternal grandmother was diagnosed with breast cancer at 45 years of age. When tested for a BRCA1 or BRCA2 mutation, her test comes back negative.
The Clinical Dilemma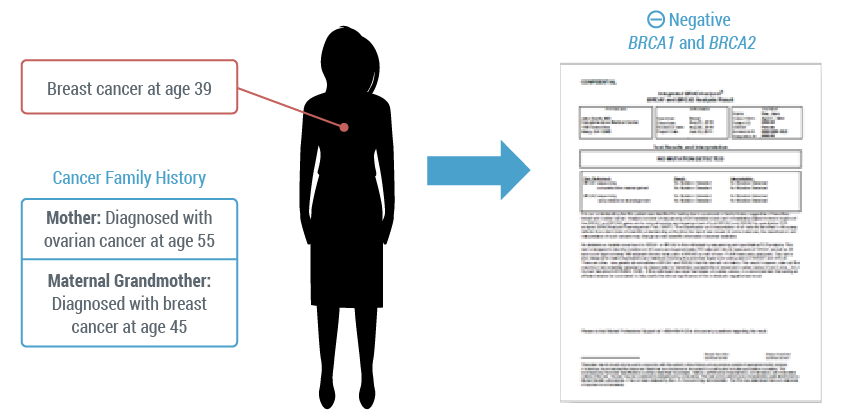 This negative result may bring about the following questions: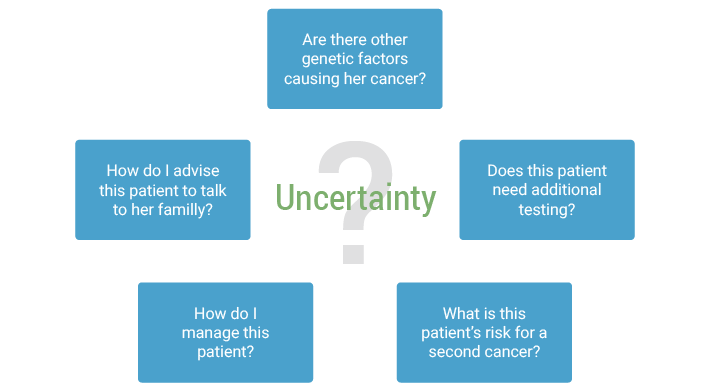 In fact, recent clinical research has validated these questions.
Data illustrates that breast cancer risk can be caused by a multitude of genes. In addition, we know that a single gene can be linked to an increased risk for several different cancers. This can make the choice of where to start and how to progress increasingly difficult for providers.
Clinical Research Validated This Dilemma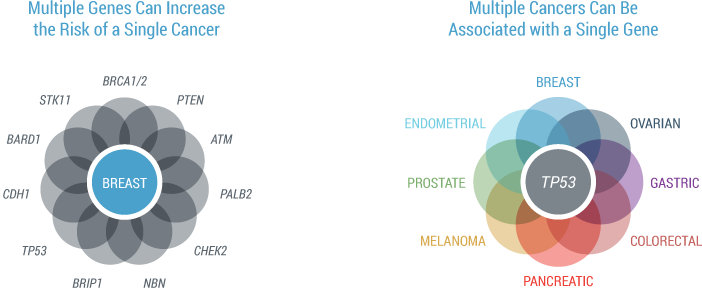 Data presented at SABCS in 2014 by Lavania Sharma illustrated that in 11,018 patients with a breast cancer, 43.4% of the pathogenic mutations identified with myRisk were outside of BRCA1 and BRCA2. Additionally, 6.2% of the mutations were identified in the Lynch syndrome genes. Overall, testing patients with a personal history of breast cancer using a 25-gene panel identified 52.1% of mutations in genes other than BRCA1 and BRCA2(6). This represents a 108.5% increase in mutations identified by single-syndrome testing only.

of pathogenic mutations identified with myRisk were outside BRCA1 and BRCA2

of the mutations were identified in the Lynch sydrome genes

of mutations in genes other than BRCA1 and BRCA2
Additionally, data presented at the 2014 ASCO Meeting by Matthew Yurgelun, MD from Dana Farber illustrated that in 1,260 patients suspicious for Lynch syndrome, 27% of the pathogenic mutations identified by myRisk were outside of the genes associated with Lynch syndrome.(7)

A podium presentation by Dr. Lucy Langer at the 2015 SGO Annual Meeting reiterated the importance of using a 25-gene panel to identify genes associated with ovarian cancer. Overall, panel testing provided a 53.8% improvement in mutation detection over BRCA1 and BRCA2 testing alone in patients with ovarian cancer. Additionally, panel testing led to the identification of mutations in genes that would not otherwise be suspected by clinical or family history alone. 7.8% of mutations were identified in Lynch syndrome-associated genes (PMS2, MSH6, MLH1, MSH2) and 27.2% of mutations were in genes not associated with HBOC or LS. Out of the 3,088 patients with ovarian cancer tested only 7 had two pathogenic mutations and all the patients with two mutations had at least one mutation in BRCA1 or BRCA2.(8)
Mutation detection using a 25-gene panel in patients with ovarian cancer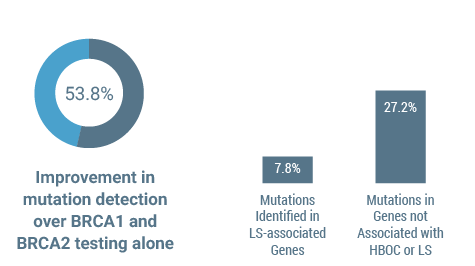 Determining a patient's complete hereditary cancer risk is accomplished by evaluating 25 clinically actionable genes associated with 8 cancer sites (9)
This table illustrates the genes that are analyzed with Myriad myRisk making it obvious that several cancers are associated with one gene and various genes are associated with different cancers.
The genes on the Myriad myRisk Hereditary Cancer Panel were carefully selected based on their contribution to risk of these 8 cancers in addition to meeting one of the following criteria:

Absolute cancer risk of ≥5%
2-3 fold increase in cancer risk over general population
Existing society guidelines around management or a change in management is inferred based on the level of cancer risk.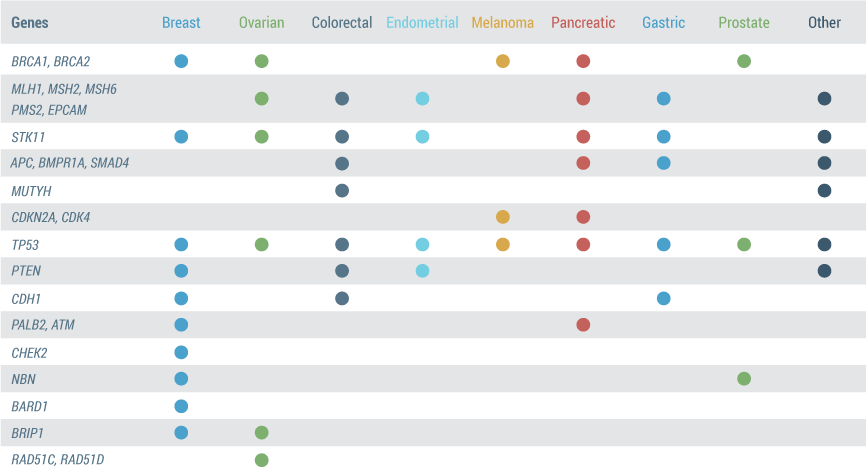 Let's revisit that 39 year old breast cancer patient introduced earlier. If she was tested with Myriad myRisk and still comes back with a negative result, you have confidence that the known genetic factors have been ruled out. Additionally, patients tested with Myriad myRisk will receive the myRisk Management Tool which provides NCCN and other societal guidelines' medical management recommendations based on her personal and family history along with her genetic test result.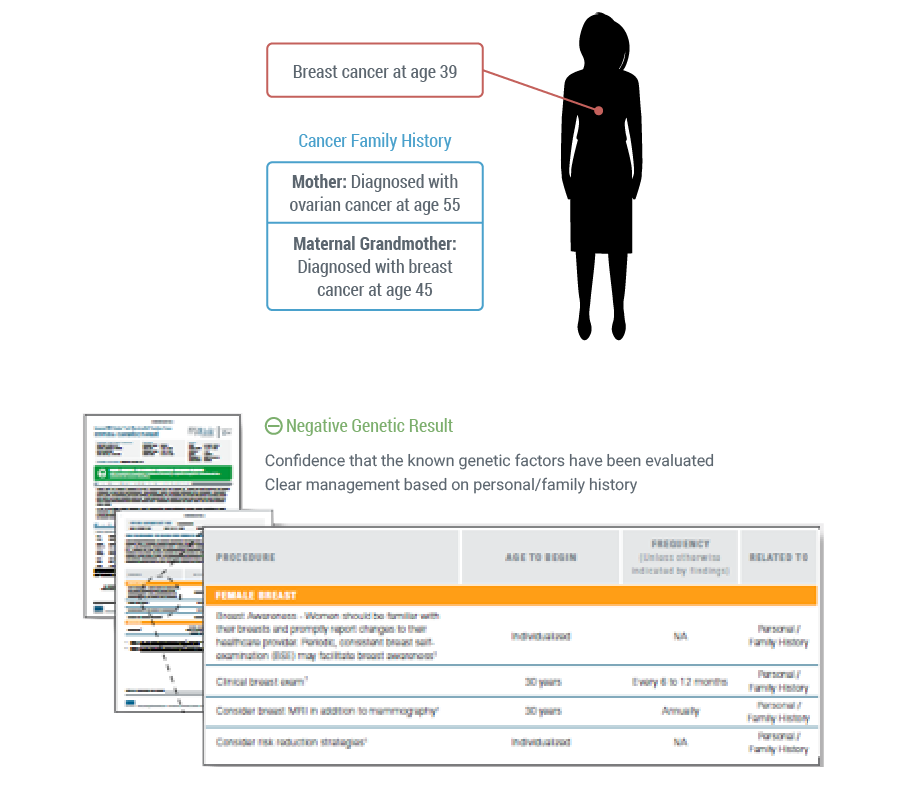 If this same patient was tested with myRisk and came back positive there is the same confidence that the known genetic factors have been evaluated and the myRisk Management Tool will provide published guidelines and data related to the genetic finding.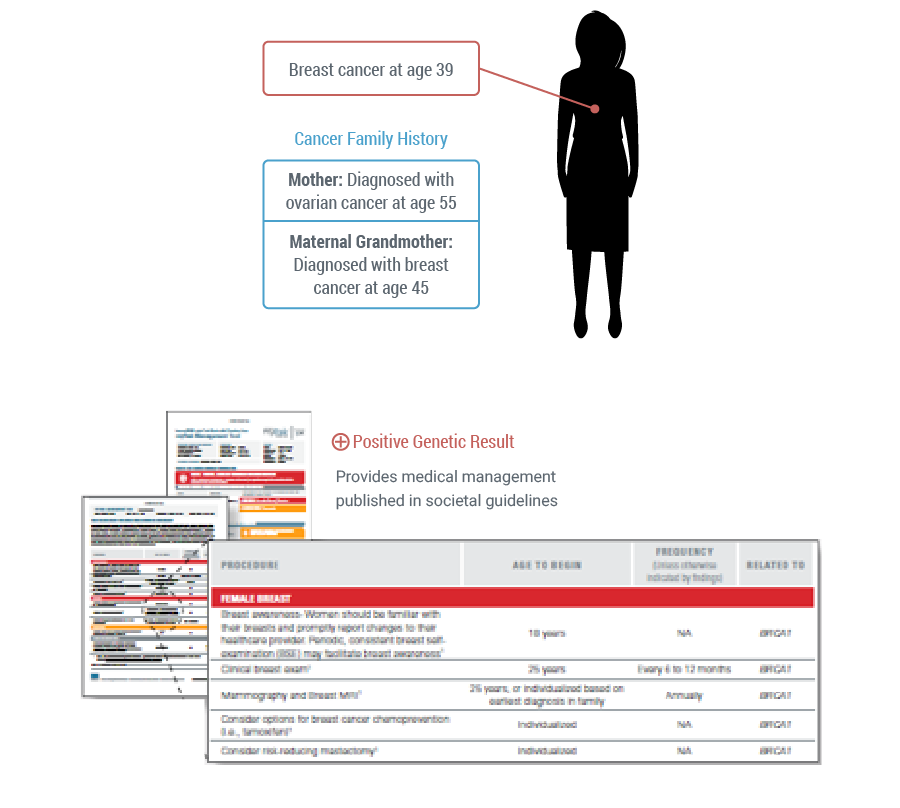 By testing patient with Myriad myRisk, you can be sure that known genetic factors have been evaluated and you are able to manage the patient appropriately based on his or her hereditary cancer status.
For more information, please visit: https://www.myriadpro.com/myrisk/hereditary-cancer-panel-overview/
Pre-Test Conversation with Patients
A thorough pre-test conversation is an important way to help patients understand the details of hereditary testing. A complete pre-test conversation should include the following topics:
Introduction to cancer types: sporadic, familial and hereditary
The patient's personal and/or family history that suggests he/she may be at risk for a hereditary cancer
Cancer risks associated with inherited genetic mutations
Available test options
Possible test results: positive, negative and uncertain (VUS)
Family impact
Insurance coverage of hereditary cancer testing
Benefits and limitations of genetic testing
Next steps and management plan
Dr. Rao details how she discusses hereditary cancer with patients.
Once consent is gathered from the patient, the process to submit a test is quite easy! All that you need is a completed test request form (TRF) along with a sample collected from the patient. The sample can be shipped directly to Myriad and it will take approximately 14-21 days to receive results. Results may reflect positive for a deleterious mutation, negative, or a variant of uncertain significance.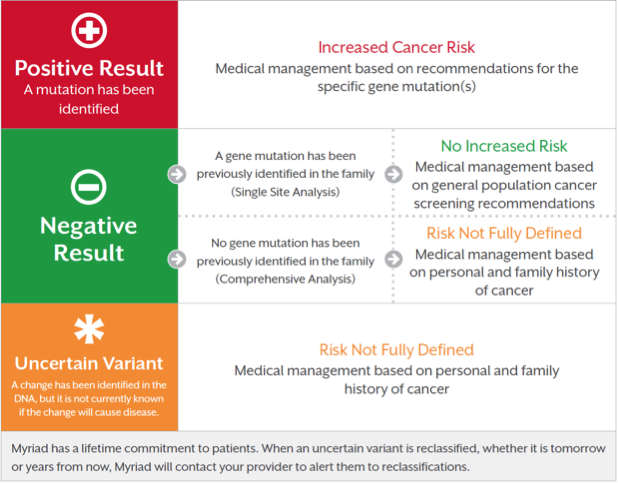 Brochures about test results are available to help with patient discussions. The genetic test result provides information that is clear and easy to understand. Depending on what test is ordered, the result is accompanied with a tool that provides recommendations for managing patients based on societal guidelines for genetic and familial risk or a recommendation on eligibility for appropriate companion diagnostics.
Discussing results with patients is one of the most important parts in the process. Learn about establishing an effective results disclosure policy for meaningful and helpful conversations with patients who have been tested.
http://brightcove.vo.llnwd.net/e1/uds/pd/940277675001/940277675001_2547743835001_RAO-3-071613.mp4
(10)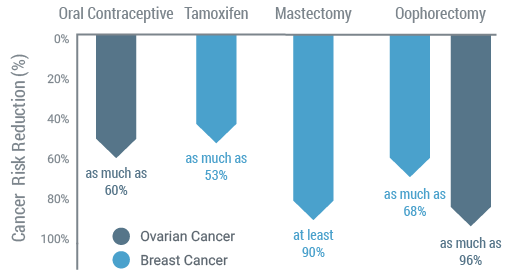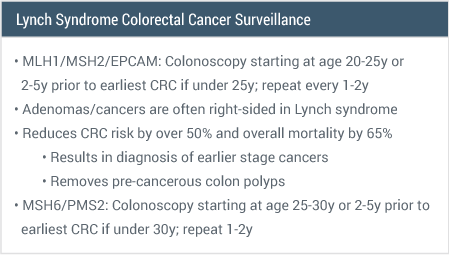 An effective protocol should include standardized processes for ensuring patients are managed appropriately based on the results of their test.
Once a patient is identified to have a hereditary cancer, multiple management options are available to help reduce the risk of developing a second cancer.
Medical Management Reduces Cancer Risks(11)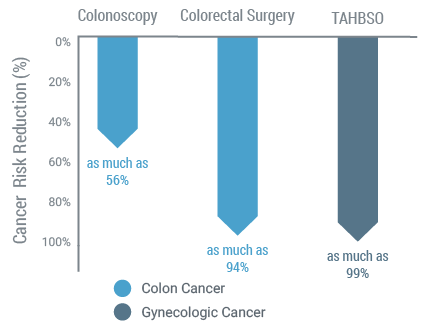 (12)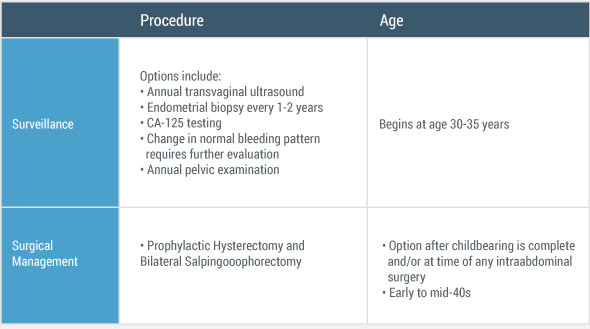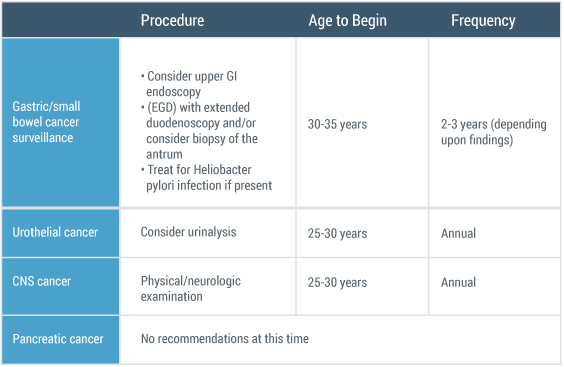 Additionally, if a Myriad myRisk test has been ordered for a patient to rule out a hereditary cancer predisposition, a myRisk Management Tool will be included with the result. The myRisk Management Tool includes test and patient summary information, cancer risks, management guidance, and information for the patient's family.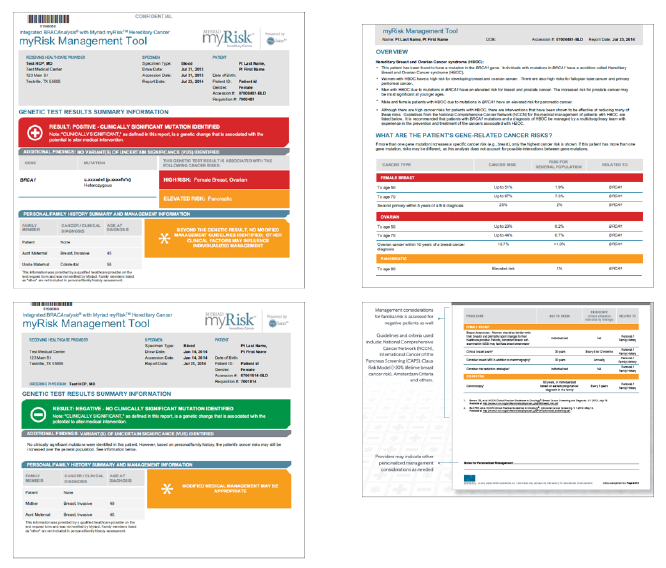 Dr. Rao discusses how a hereditary cancer diagnosis impacted a patient's treatment and outcome .
Additionally, depending on the circle of care, there are potentially other providers available to help counsel patients and their family members.
How does hereditary cancer status impact referrals to other specialists?
Post-Test Support – Your patients may want additional information about their hereditary cancer test results. Here are a variety of post-test educational resources.